Canvas Wraps are a great alternative to traditional picture frames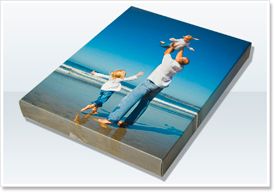 Canvas wraps are a popular alternative to traditional picture frames because they produce vibrant colors, add texture and can be displayed without glass. Ordering a canvas print takes just a couple minutes by completing our order form and uploading your file.
Here's how we produce your canvas wrap.
First we check your digital photo to make sure it will produce the best results. Your image should have a 1.25" area around the main subject, so it will wrap to the edge of the frame.
We use UltraChrome Inks and Lyve Canvas to produce eye-popping color images. Lyve Canvas sets a new standard in fine art and photographic printmaking and is archival certified. Next we hand varnish each print to provides UV protection and durability. Finally, we hand wrap each print to exacting standards. Your order is printed, varnished, wrapped, inspected and shipped within 72 hours.
We guarantee the quality of each canvas wrap.