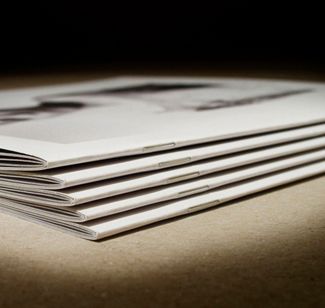 Don't call it stapling, we use a metal stitch to secure pages together. Saddle stitching is a fast and economical choice for finishing booklets, newsletters and other items. If your project requires an economical solution produced quickly, saddle stitching is the way to go.

Specifications
Minimum sheet size: 8" x 5" fold and stitched to a 4" x 5" booklet
Maximum sheet size: 18" x 12" fold and stitched to a 9" x 12" booklet

Maximum number of sheets: 18 sheets (72 pages + cover)

Speed: We can produce 2,500/booklets an hour
Collate / Stitch / Fold / Face Trim
Ask us for a free estimate on your next saddle stitching project.