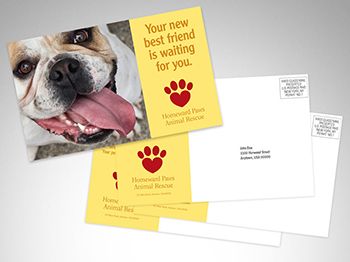 Postcards are a popular direct mail marketing product because they are easy and affordable to produce. Postcards can be produced in a wide variety of sizes and receive a discounted postage rate when mailed at the first class presorted rate. Here is an easy to follow summary of the sizes and postage rates available for post cards.
Postcards at Discounted Rates
Postcard mailings that have 500 piece minimum quantity can qualify for additional postage discounts at the First Class Presorted rate. The physical size of the postcard can be no smaller than 5.5 x 3.5 and no larger than 6 x 4.25 in size.
When is a Postcard Not Mailed at The Postcard Rate?
Postcards Mailed as a Letter
Postcards that do not meet the size and quantity requirements are mailed at the letter rate. These post cards can be as large as 6.125" x 11.5" and still qualify for the letter rate. These postcards can qualify for discounted postage if mailed at the standard or non profit rate. 

Postcards Mailed as a Flat
Postcards can be even larger, up to 15" x 12" and be mailed as a flat. These jumbo post cards are popular because they stand out. Postage discounts are available at standard and non profit rates as well.
Postcards are useful for...
Birth Announcement Cards

​Save the Date Cards

Graduation Announcement Cards

Retirement Party Cards
Thinking about Doing a Postcard Mailing?
With so many options in a postcard mailing, you'll want to get your best bang for your buck. We can help.
Receive a free estimate on your next postcard mailing.