UV Coating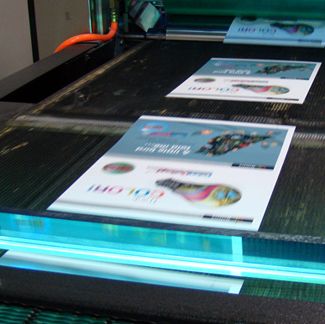 What Do UV Coatings Do?
UV Coatings are used in the commercial print industry to provide protection and improve the look of printed surfaces.

What are UV Coatings?
UV Coatings are applied as liquids, but upon application and after exposure to UV light they instantly cure to a solid film. UV Coatings contain materials that react to a specific wavelength of light. The coating absorbs energy from UV light, which triggers a chemical reaction to occur in the coating. UV Coatings contain no solvents or volatile organic compounds (VOC's).

What is the difference between UV Coating and Aqueous Coating?
Aqueous coatings, as the name implies have a percentage of water (generally between 40% and 60%) used in the carrier. The water is extracted with heat leaving the coating during the printing process. Most UV Coatings are 100% solids and use light rather than water and heat in the curing process.UV coatings offer higher gloss and rub resistance than aqueous coatings.

What is a varnish?
The word "varnish" is mistakenly used in the print industry to refer to any coating. Varnishes are applied via an ink train (on press); coatings are applied on a coating unit (either on press or stand alone).

What types of paper can I apply a UV Coating to?
Generally speaking, coated surfaces of #100 text and heavier are thick enough for UV Coating materials.

Are there different types of coatings?
Yes. Gloss, semigloss and satin finishes are the most popular, but there are others. Due to the shelf life of coatings, we usually provide a semigloss and satin option. 
Ask us for a free estimate on UV Coating for your next printed piece.