The Audience
How was your list generated? Who you are speaking to is the most important factor in improving your response rates. Are they the right individual(s) within the organization for your marketing message? It is critical to the success of your direct mail campaign that you "sweat the details" when it comes to maintaining and updating your list.
There are three basic types of direct mail lists.
House Lists
Often called customer lists, these lists are generated from your customer base It would seem fair to assume that these folks will be the most receptive to your direct mail message because they have done previous business with you.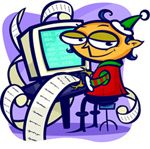 Response Lists
Response listed are generated from people who have responded to or inquired about something that you sell. These people may have never purchased anything from you, but are interested in hearing more about what you have to say.


Compiled Lists
Compiled lists are usually purchased from a company that sells data based upon a set of criteria or demographics. These folks may or may not have any interest in your direct mail message, so it would be fair to say that setting your sites a bit lower, in terms of response rate, especially when compared to a house or compiled list.