Step 2: Interact. Capture visits to the landing page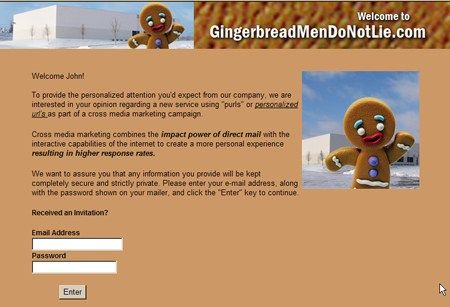 Here is an actual campaign we ran during the holidays we called "Gingerbread Men Don't Lie." We created a landing page with the same look and feel as the direct mail piece. When John visits the landing page, he knows immediately he has arrived at the right place and is greeted with a warm welcome.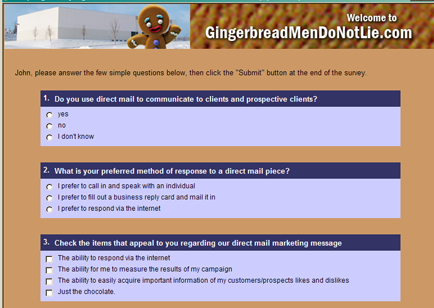 We tailor quesions that will provide insight into John's needs, motives, level of interest and timeline for making a decision. John answers will trigger the appropriate response. If John wants immediate attention, he'll get it. If he'd prefer to download a white paper, watch a video or recieve more information, he'll be able to do so immediately. He will be guided to pages that will be most relevant to him based upon the answers provided in the survey.
Finally, John can update his contact information, such as his e-mail address, to improve future communication.
Best of all, we'll know exactly what John wants and can provide that to him instantly.