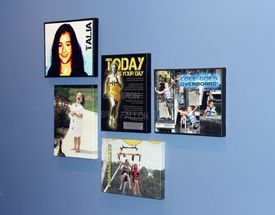 1. We use only the best wooden frames
We use only 100% pine for our frames.We use a 1.25" depth frame which provides a more 3 dimensional look. Other retailers use a narrower .75" frame, which doesn't provide much of a profile for a canvas wrap. 
2. Canvas material that is good enough for a musuem, is good enough for us.
We use a museum quality canvas material in every print we produce instead of a cheaper material. Our material is guaranteed not to tear. 
3. Top quality fade resistant ink We use the highest quality fade resistant inks in every print we produce.
Off brand printers and inks are subject to fading and offer a limited color gamut. We hand varnish each print for color fastness and durability. 
4. We inspect each wrap individually before we ship your order
We assemble each wrap individually. We don't ship anything that isn't reviewed by our trained professionals and guarantee the quality of each piece.