People Prefer to Respond On-Line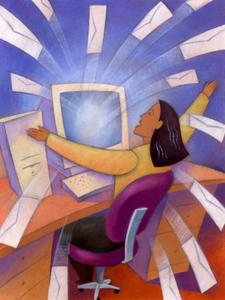 While e-mail is less effective than direct mail from a delivery standpoint, the internet is an excellent response channel.
Studies have shown that more than 40% of direct mail recipients prefer to respond on line when compared to an 800 number or business reply card. The rapid increase in smart phones and technologies such as QR codes will continue to make the internet the preferred response channel for consumers.
Today, people want to learn about products and services on their terms by reading articles, watching video, downloading a brochure and more. Relevant content can be brought to them for where they are in the buying cycle through a personalized url.
Hot leads might be ready to speak to a sales person; but many others might just want to learn more about your product or services. A purl can provide them with the information they are looking for based upon where they are in the buying cycle.
Finally, their direct response information is forwarded to you (or the people you designate) in real time for immediate follow up.