Every Door Direct Mail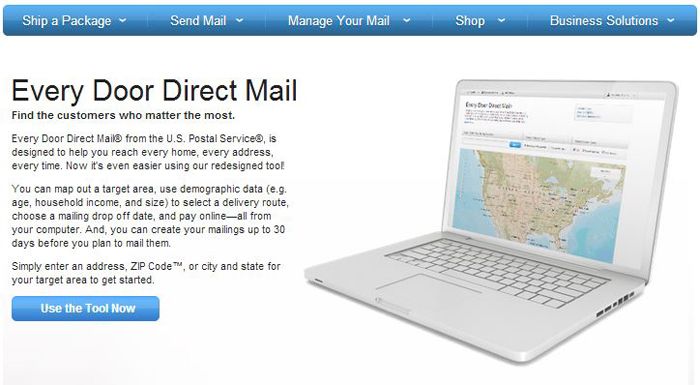 Keys Benefits of Every Door Direct Mail
Every Door Direct Mail (EDDM) is a popular service offered by the United States Postal Service. Here are the main customer benefits of EDDM.
Low postage rate, between .158 and .201 per piece
No database required. Customer choose the carrier routes they want to receive their mailing. Each address within the chosen carrier route(s) will receive the mailing.
EDDM is easy to get started. The USPS provides an on-line tool that makes finding your target market easy.

 
Is Every Door Direct Mail the right choice for my business?
Every Door Direct Mail is gaining popularity because of it's ease of use and low postage rates. However, it may not be the best choice for your small business. Every Door Direct Mail is highly saturated marketing, your mail piece is delivered to everyone in a carrier route. If your product or service can potentially be used by everyone, then EDDM might the choice for your business. These types of business are good fits for Every Door Direct Mail;
Pizza Parlors
Dentists
Real Estate Professionals
Ice Cream Shops
Vehicle Maintenance Shops
Insurance Agents
Dry Cleaners
Fitness Centers
Churches
Of course, this is just an abbreviated list. If your business relies largely on a specific geographic area, more than a specific demographic, then EDDM might be the right choice for you.
 
Need more information about Every Door Direct Mail?
Contact us at info@gatewaydigitalpress.com or call us at 314.436.4369 and we'll be happy to provide additional information.