Ricoh Digimaster 125 and 110 Laser Printers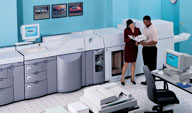 The Digimaster established a new standard for image quality in a high volume digital printer. These units produce solid blacks, excellent gradients and outstanding halftones.
We have a Digimaster 125 and a Digimaster 110, both have six paper drawers and can produce over 2 million images per month. Most of our black and white variable data jobs are produced on these machines.