Black and White Copies
Black and White Copies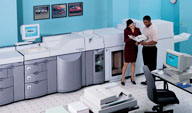 All black and white copies are not created equal. We produce millions of black and white copies every month on two Heidelberg 9110 digital printers. These machines produce rich black text and smooth grayscale images in crisp, clean detail. We back up our quality black and white copies with fast, friendly service you can count on.
Our clients rely on us for fast service and quality black and white copies for a variety of different needs including catalogs and booklets, newsletters and flyers and sell sheets.
Contact us at 314.436.4369 or request an estimate on your next black and white copy job.
---