Gateway Digital Moves To G7 Color Specification
Gateway Digital Press Upgrades To the New G7 Color Specification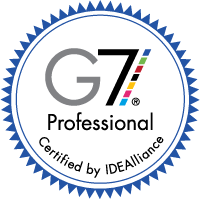 Gateway Digital Press has moved to the new G7™ color matching specification to improve color matching from proof to print. G7™ is based on principles of digital imaging, spectrophotometry, and computer-to-plate (CtP) technologies.
G7 is a specification developed by IDEAAlliance and the GRACoL Committee. The "G" refers to calibrating Gray values while the "7" refers to the seven primary color values: Cyan (C), Magenta (M), Yellow (Y), Black (K), Red (M&Y), Green (C&Y) and Blue(C&M).
G7™ delivers a simple calibration process that will help the us reliably achieve a close "visual match" from proof to press, G7 breaks from tradition by focusing on colorimetric data for gray balance in the mid-tones rather than on densitometric aims, i.e. dot gain, for each color.
---